It is going to be a great summer for the local workforce. Now is the time to ask for a raise or go find that $30+ hourly job. When you start seeing local gas stations paying to promote help wanted ads via Facebook like this, well we can say we have passed the tipping point. And for business owners, now is the time to get creative and open up your wallets while taking care of your employees if you plan to be in business in the near future.
A vast majority of the business in the town of Jackson, Wyoming are currently hiring. Now would be a great time to get your resume together, toss on some nice clothes, perhaps a haircut and go get a job that allows you to live somewhat comfortably in our community. The days of being able to pay employee wages of $10, $12 are long gone…
Last month the Jackson Hole New & Guide ran a Corpus Callosum column titled Ads augur epic summer worker shortage by Jonathan Schechter. Since way back in 2005, Schechter has been tracking the amount of help wanted ads in the local newspaper vs the number of rental's listed. (see below)
Jackson Wyoming Jobs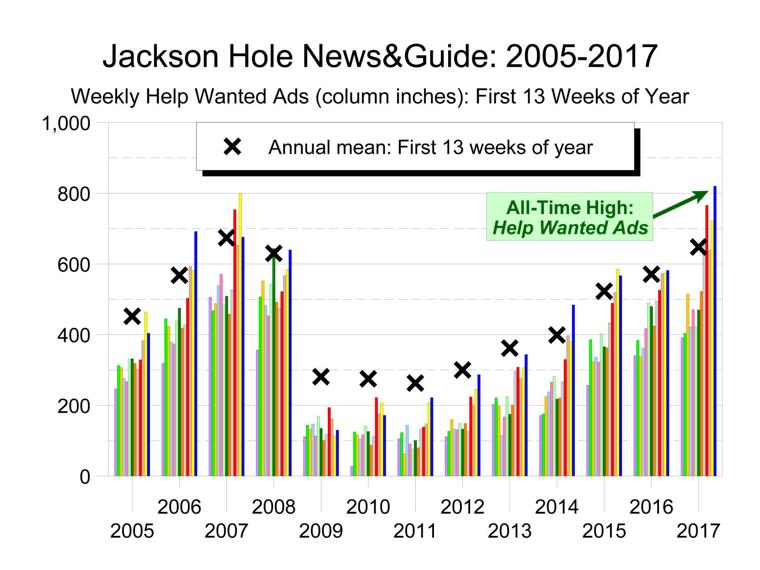 Why on earth would Schechter be collecting data for this long? Perhaps he saw what was coming down the pipeline, and wanted to track the Jackson Wyoming communities growth over the years. Yet he is just a citizen in the community, not apart of the local government or town council for that matter. Maybe we should be paying attention to his data and what it means to the future of Jackson Wyoming.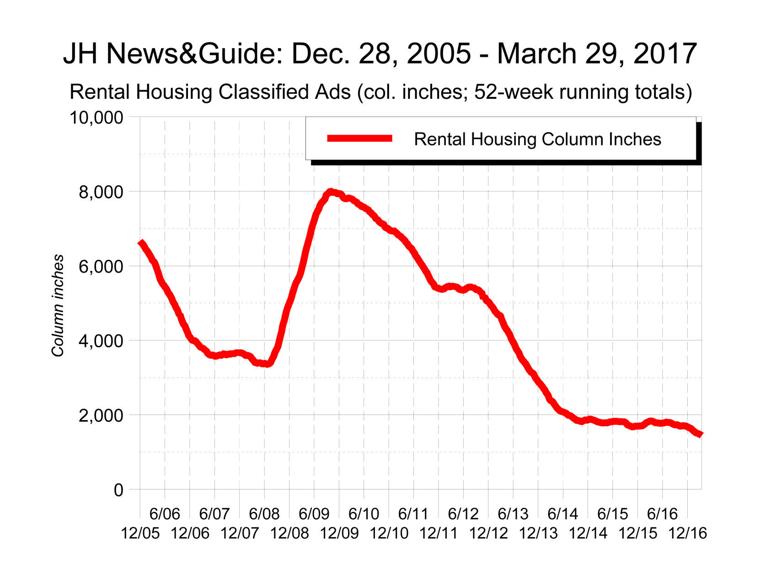 Jackson's economy continues to boom the problem becomes staffing. Which is clearly evident as shown above with more help wanted ads in the newspaper than ever before, tons of new commercial development plans in the works and a brand new Marriott in the center of town that will need 100+ employees.
Where will these people live? If your're wondering who owns all the land in Jackson Wyoming, here's a hint. 97% is publicly owned, the remainder for the most part is owned by wealthy millionaires and billionaires. And they aren't the ones to blame, as when I make enough money in the next few years I will buy a place in Jackson too, and I bet you would as well.
Jackson has never been an easy place to live, or cheap for that matter. I talked about 5 of the most expensive rentals in Jackson in the past, if you want to live here you need a good paying job, and most likely 2 of them.
Numerous locals have figured out how to make Jackson work, whether it be the affordable housing, accessible housing or even free market, if you work hard enough anything is possible.
My message to the business owners in town is as follows " provide housing and a livable wage for your employees and you just might end up with a workforce that respects you and will be invested in you and your company for the long haul"..